Memories
This page will be dedicated to personal memories and messages from friends and family. If you would like to send us a comment for this page, please use the contact form. We would be happy to include photos.
"When I grow up I want to be a Deckhand"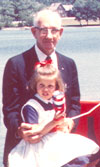 On weekend mornings, "Dindy" often took me down to the Weirs dock to watch "The Mount" set sail for the first tour of the day. The drive itself over the hilly road from the house to the famous Weirs boardwalk was an adventure that built up the anticipation, with all the familiar landmarks along the way.
Once we reached The Weirs, the first stop was a little general store where we bought freshly baked donuts. We took them away, warm, fragrant and sugar coated in a brown bag. We parked at the top of the boardwalk. The fresh lake breeze was invigorating and full of lovely smells.
Dindy talked business with Captain Bryan Avery and the crew as he scanned the number of passengers queuing up to board the boat. When the last passenger had boarded, there was a sudden flurry as deckhands scurried about lifting the heavy ships lines, and leaping athletically aboard.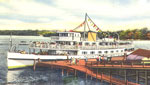 At 9 a.m. the Mount set sail, sounding a resonant blast of her horn, while we waved. Time and again on these mornings, I told Dindy, "When I grow up, I want to be a deckhand!"

Dindy, you will live forever in our hearts.
Wendy Lubetkin
Granddaughter
Dindy, I will never forget your twinkle...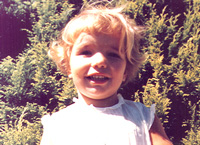 My beloved grandfather, affectionately known as, Dindy, passed away last week. I am blessed to have so many amazing memories. I will always treasure the magical times that we had at my grandparent's home in the Weirs Beach.
It seems like just yesterday we were all sharing a delicious meal together, celebrating a birthday or holiday, doing cartwheels across the front lawn, catching fire flies or toads, or sledding down the hill on a cold, wintry day.

When it was time to leave, Meme and Dindy would slip me a handful of candy for the ride home. I remember riding down their driveway, waving as I peered out the back window, and there would be Meme and Dindy still smiling and waving until we were completely out of sight.
I always knew that I was the luckiest kid in the whole wide world to have a grandparent like Dindy. I am forever grateful that my two children, Miles, nine, and Maddy, six, got to know and love Dindy too.
Dindy, I will never forget your twinkle, integrity, intelligence, generosity, sense of humor and kindness. Thank you for being such an important part of my life. You are loved and you are missed and will be forever in my memories
Kim Stein
Granddaughter
Byron lives on as long as the Mount , Sophie C and Doris E
continue to ply the beautiful waters of Lake Winnipesaukee.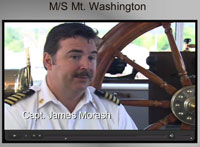 I had the honor to meet and work with Byron during the time the Mount Washington was lengthened in the winter of 1982-83. Both he and Doris were very good to this young kid at the time. As my family has been associated with the lake and Bear Island for over a hundred years, he knew many of my relatives. It was a great time listening to the old stories Byron, Murray Ryder and Brian Avery told during the coffee breaks. I will cherish these memories for ever. I visited Byron & Doris out in Sun City, Arizona during that winter as well.

There is no doubt, I would not have become an owner of the Mount recently had it not been for my fondness and love of this company that Byron built. Byron lives on as long as the Mount Washington, Sophie C and Doris E continue to ply the beautiful waters of Lake Winnipesaukee. Although they are starting to show some their age a bit, they are still in very good shape. As stewards of this New Hampshire tradition, I hope to pass them on down the line to the next generation in such a shape as to guarantee they will be here for a long time.

Captain Jim Morash
Mount Washington Cruises

Working for the company was like a family.
I'm sorry to hear of Byron Hedblom's passing. He made a lasting impression on me. While a high school student, in 1966, John Pettengill brought me to work for Mr. Hedblom on the boats at the Weirs. I spent two very exciting seasons getting to know Mr. Hedblom, Captain Avery, and the whole crew. Working for the company was like a family. I think about those years often.

Sincerely, Neil McIver
He gave my father so much confidence as a young working man...
My 91 year old father, Vincent Dahlgren, worked for Mr. Hedblom during World War 2. He has always spoken of Mr. Hedblom as a man who gave him so much confidence as a young working man. I also believe that Mr. Hedblom went to the draft board and spoke of my father's importance to the ship building effort. As a result, my dad was not drafted but remained working in the ship yard.
Dee Leighton (Bangor, ME)
Mr. Hedblom always had a smile for everyone
Time passes but these are the memories of a child: The Hedblom family of Woburn on Salem Street at Sedgewick Park will always be a fond memory for the Sullivan Family. Mr. Hedblom always had a smile for everyone. Mother Doris seemed exotic but always friendly and always had time for friendship with my mother. Eldest daughter, Doris, looked much like her beautiful mother. Janet was my favorite and a good friend of my sister, Maryanne. Youngest daughter, Carol, was beautiful and quiet. She got the first 1955 powder blue Thunderbird. Always there was grandfather, "Bumpa", who looked like the perfect grandfather.

To a child observer, The Hedblom family was a beautiful family and should have enjoyed a happy and healthy life. Byron Carl Hedblom showed his family the way but still had time to be an important contributor to maritime history. With greatest sympathy from...
.
Charlie Sullivan
Lexington, South Carolina

The Mount is Family
Unfortunately, I never had the opportunity to meet Mr. Hedblom, but I grew up admiring three of the boats that he and his father built. I first rode the Mount Washington during the summer of 1978 when I was just 5 years old, and I have been hooked on the ship and its history ever since. While my peers were chasing after rock stars and TV celebrities in high school, I found myself inspired by people like Leander Lavallee, Byron Hedblom, Bryan Avery, and Bob Murphy, who had spent countless years of their lives navigating the waters of Lake Winnipesaukee.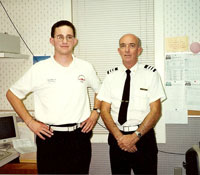 Nate Beyea and Charlie Greenwood in the Ticket Office at the Weirs (1991) - Click to enlarge
My interest in the Mount ultimately turned into a summer job, and I was lucky enough to work for the Winnipesaukee Flagship Corporation off and on from 1989 to 1999 as a ticket agent, dockhand, and deckhand aboard the Mount, Sophie, and Doris. During my tenure at WFC, I enjoyed working with many people from the Hedblom era, including Bruce Heald, Bruce Campbell, Bob Cole, John Pettingill, Don Carr, and Jan Wescott. I also met many former employees, including Bob Murphy and Murray Ryder, who returned from time to time to visit the ship and the company.

Working for the Mount was always like having an extended family, where a family atmosphere was forever present. Yes, we worked very hard to serve the customers, but we also found time to have fun. And we cared about each other too, just like we were all a part of a close-knit family. I have always believed that Mr. Hedblom was to thank for this sense of family that still prevails at the Mount today. In so many ways, the Mount truly was my best job, and I think about my time there often. It goes without saying that I will always have a deep fondness for the boats that Mr. Hedblom built and the wonderful "Mount" family that he created. He has certainly left behind a beautiful and amazing legacy. Thank you for all the great experiences and memories
Sincerely,
Nate Beyea
Historian and Former Employee
Wells, Maine
The capitol and energy that Mr. Hedblom put into the company...are the reason we still have a great fleet crusing the lake.
I spent many summers on the Lake mostly on Bear Island camping and staff for the Lawrence YMCA.
I mostly piloted the MV Camp Lawrence now named the MV Bear. I Also worked for the Winnipesaukke Flagship Company as The skipper of the Doris E 1977 and 78.
I enjoyed the Officers and crew very much. Bob Murphy, Brian Roger Murry Don and John Petengill
John taught me a lot as did Bob. Roger was great fun to work with. The capitol and energy that Mr. Hedblom put into the company and his choice of staff were there in the years after he sold the company and still are the reason we have the a great fleet crusing the lake.
With the shore of Winnipesaukee mostly private I always felt privilaged to share its spectacular views with so many people from all over the country and the world. I enjoyed telling the tales we told in our traveloges and getting to the most spetacular vista berore sunset.
Thanks for the Website
Tom Caughey